William Goh Division Index Powerful Negotiators Group PropNex Realty P L
William Goh S T Group District Director CEA No: R010617A Mobile: +65-9477-3900 Email: williamgoh88@propnex.com
*****************************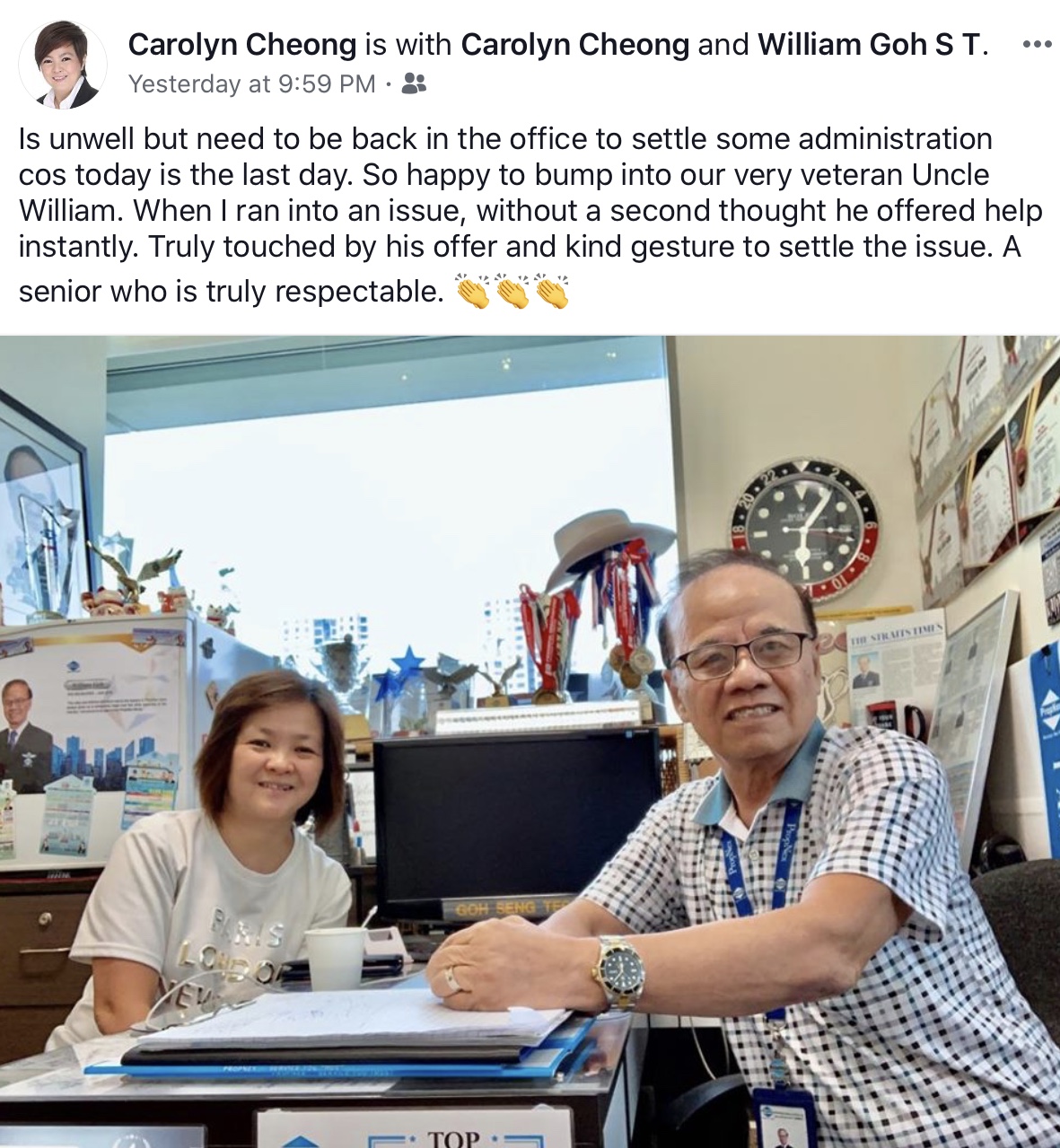 The amazing culture of PropNex-Png is that we can meet up to discuss any problem regardless of whoever your manager. Thanks you Carolyn Cheong for the meet up in my office on 01 Nov 2019.
Help is always available.
****************************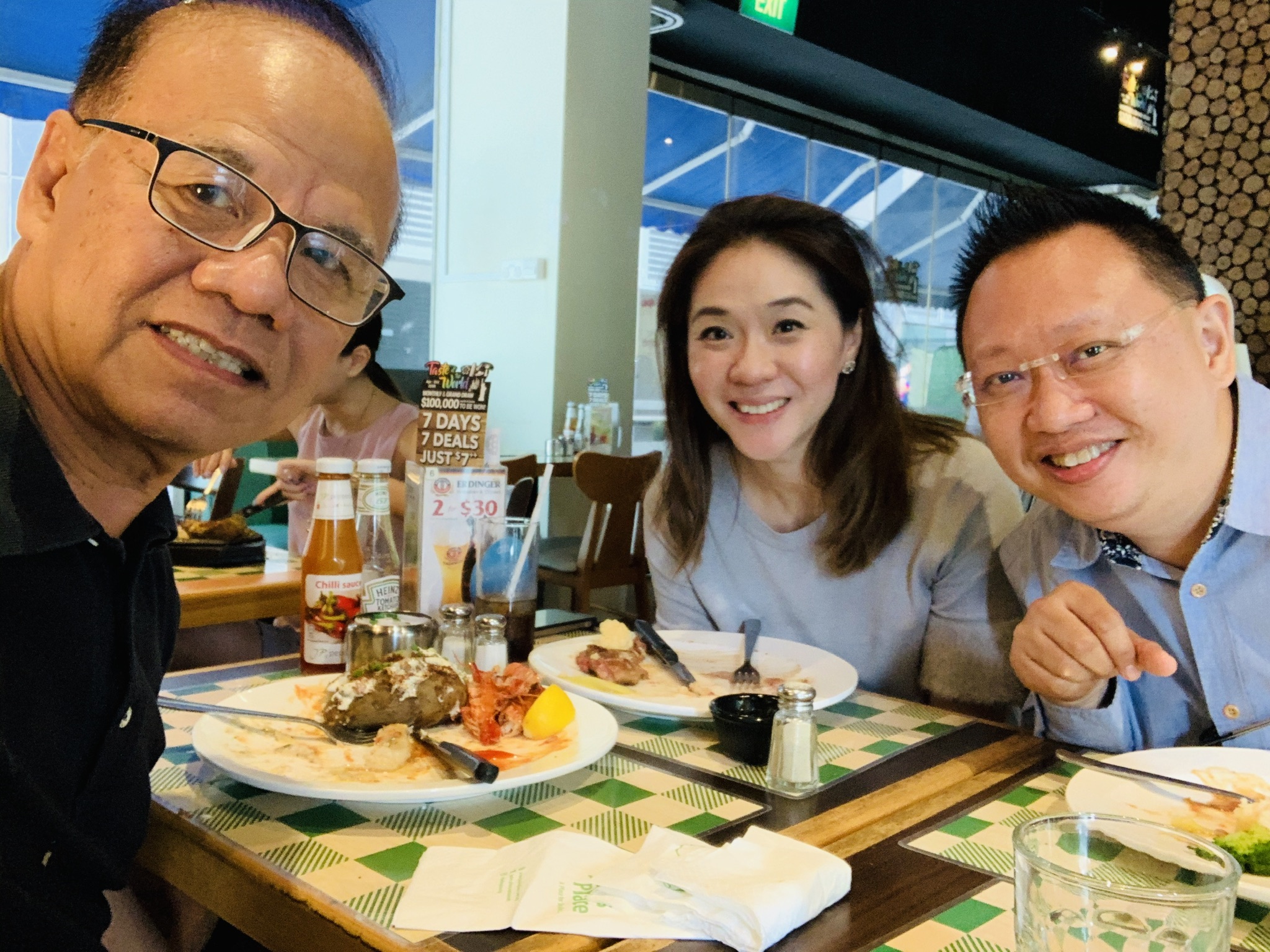 Thank you Png team mates Jeslyn Lim & Victor Tan for the lunch meet up, on 16 Oct 19, for me to share my recruitment journey.
*****************************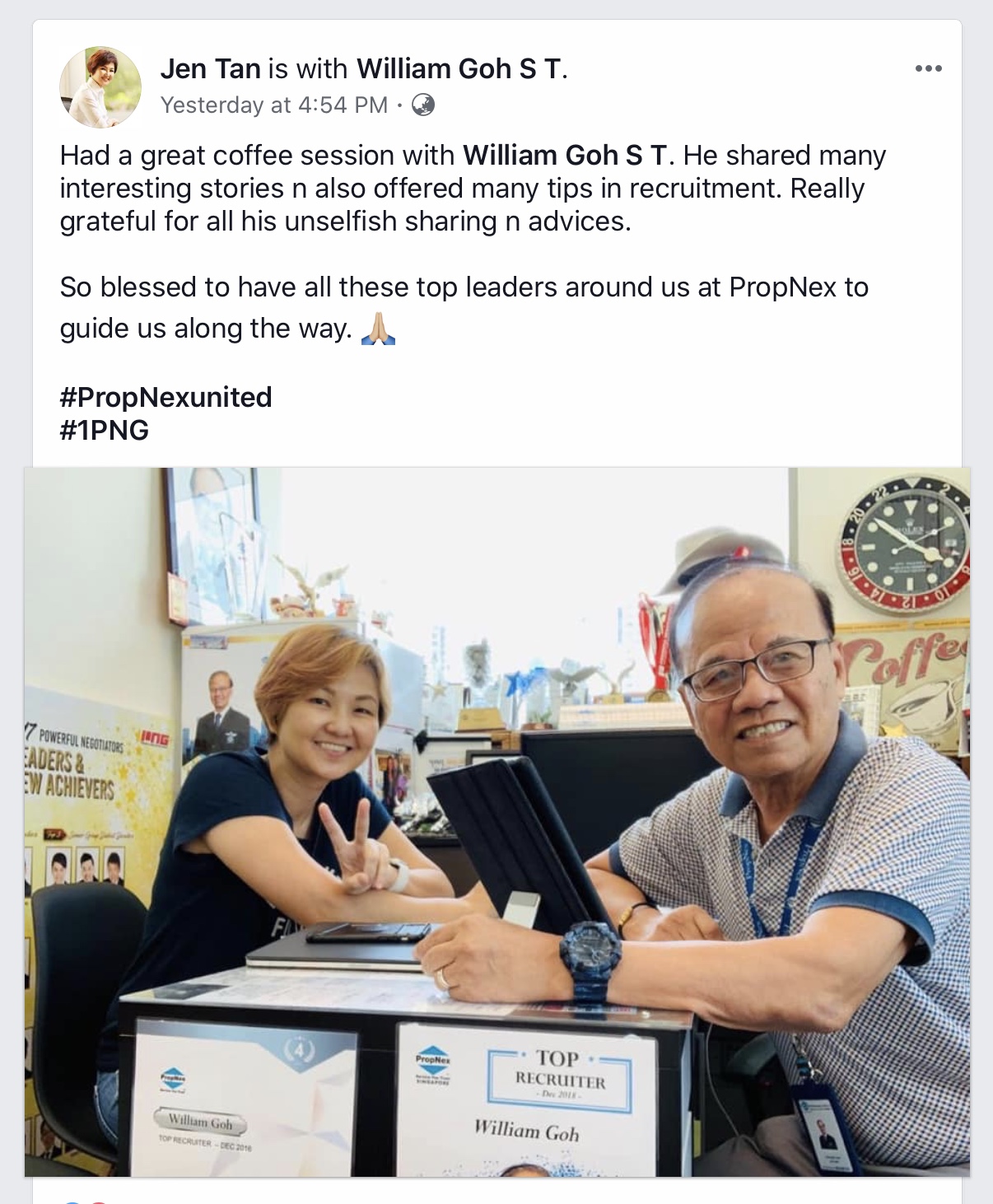 Good catch up with PropNex veteran, Jen Tan on 11 Oct 2019.  Lots of sharing, especially on  Recruitment so as to grow our team to greater heights.
******************************
Sharing is caring. Thanks WGD warrior, Ron Chan for your kind words. Let grow and succeed together! Our meet up was on 20 Sep 2019.
******************************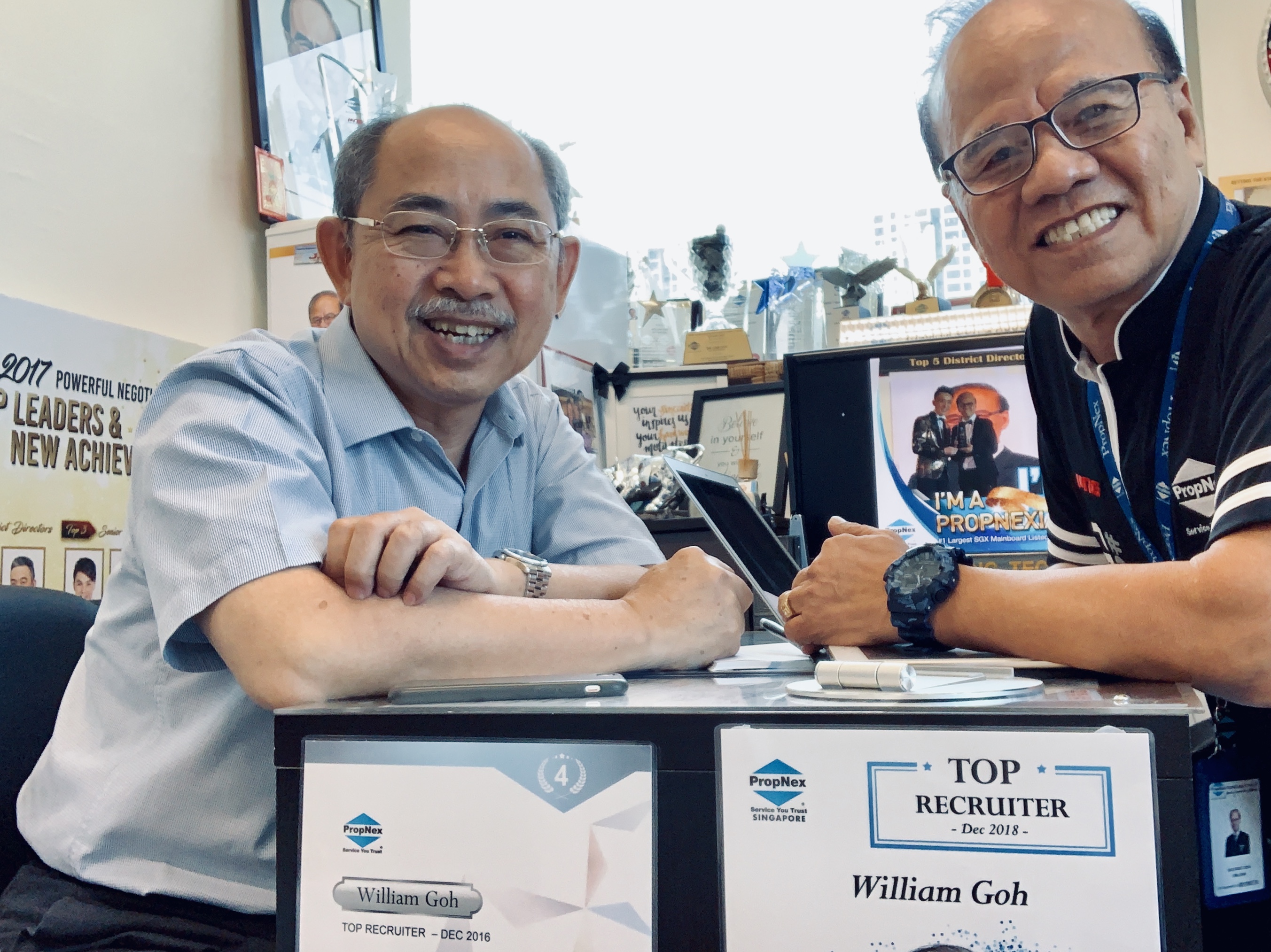 PropNex Png open sharing culture opens the door to meet up with anyone regardless of whoever your Division.
On 27 Aug 2019, I have the pleasure to meet up with Victor Khoo who heads his own Victor Khoo Division & James Gan who heads James Gan Division. Lots of open sharing & to learn from one another, a rare sight in this "cut throat" industry.
*****************************
Thanks WGD warrior Francesca Tan, for your kind words. Photo was taken during my belated birthday dinner celebration on 23 Sep 2019.
********************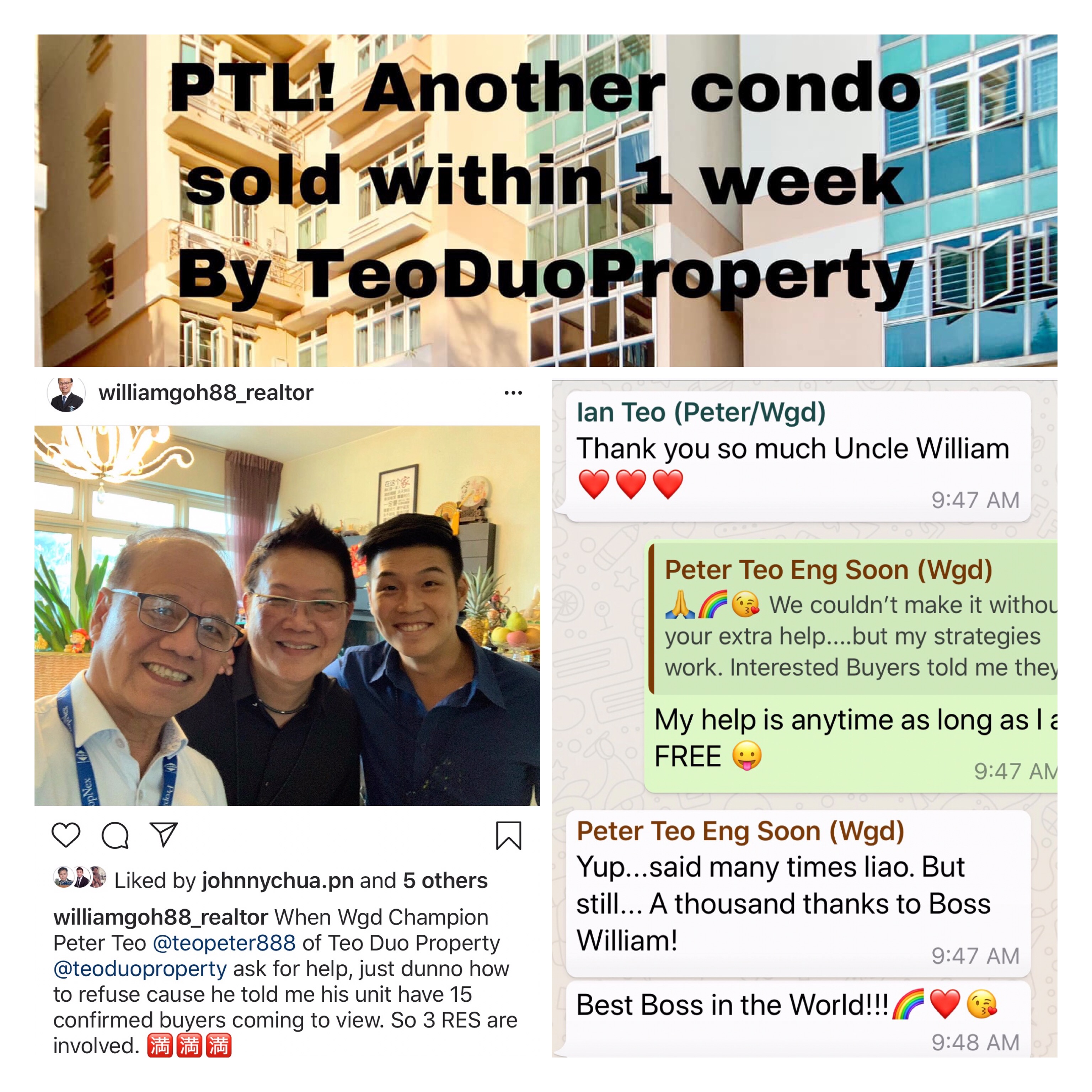 Happy to be part of the viewings!
There were 15 confirmed buyers coming to view the unit on the same day in 24 Aug 2019, Sat and WGD Champion, Peter Teo request for my help to manage the large number of buyers!  So happy that a buyer offered the unit and subsequently, Peter followed up the negotiations and was finally sold within 1 week! Congrats Peter & Ian of Teo Duo Property!
********************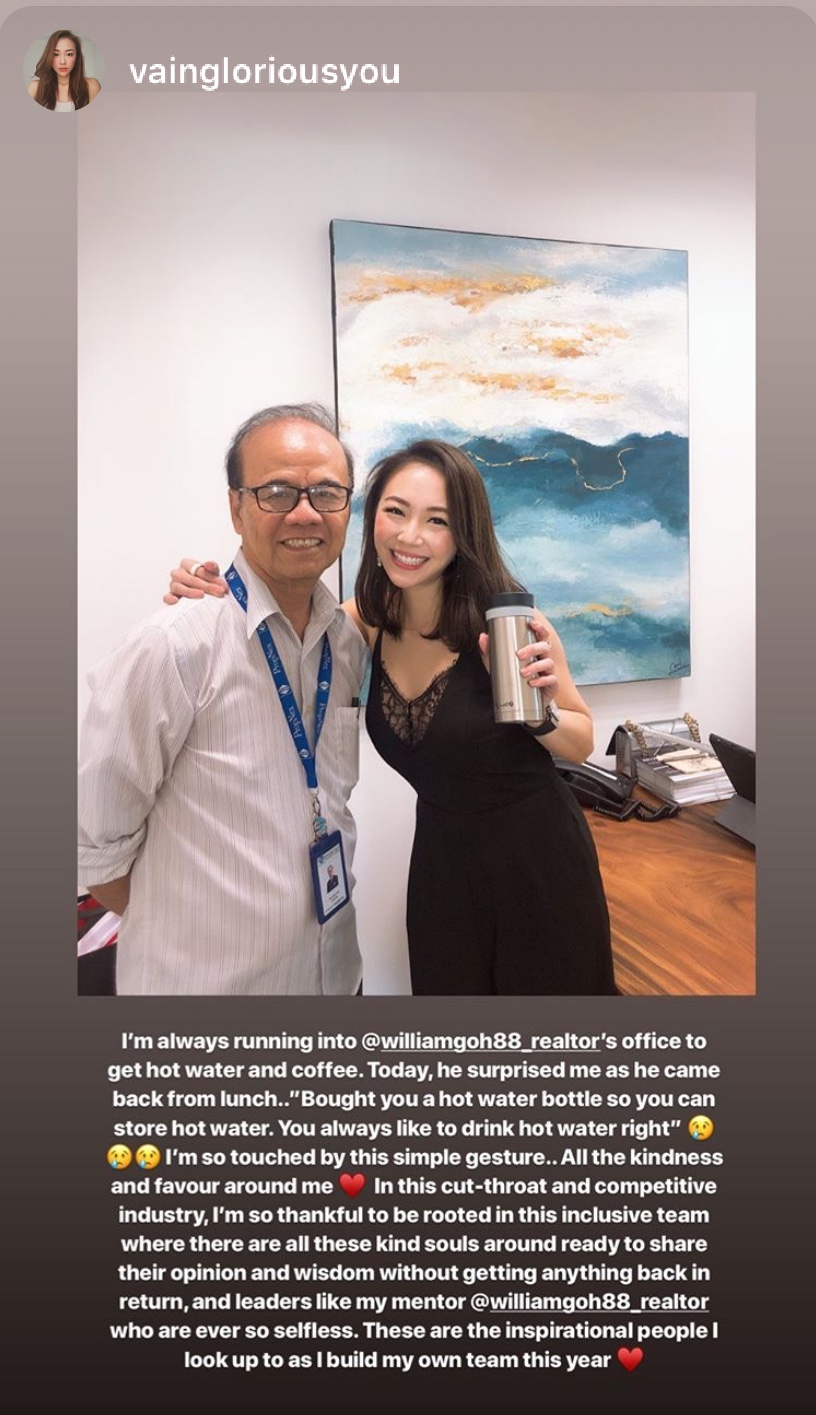 Bought a hot water flask to surprise WGD warrior Tricia Ong.
********************
Mentor support
Accompany my RES, Joanne Koh, to meet his buyer to view a few units units shortlisted.
********************
Mentor support
Accompany my brand new RES in WGD to her first viewing.
********************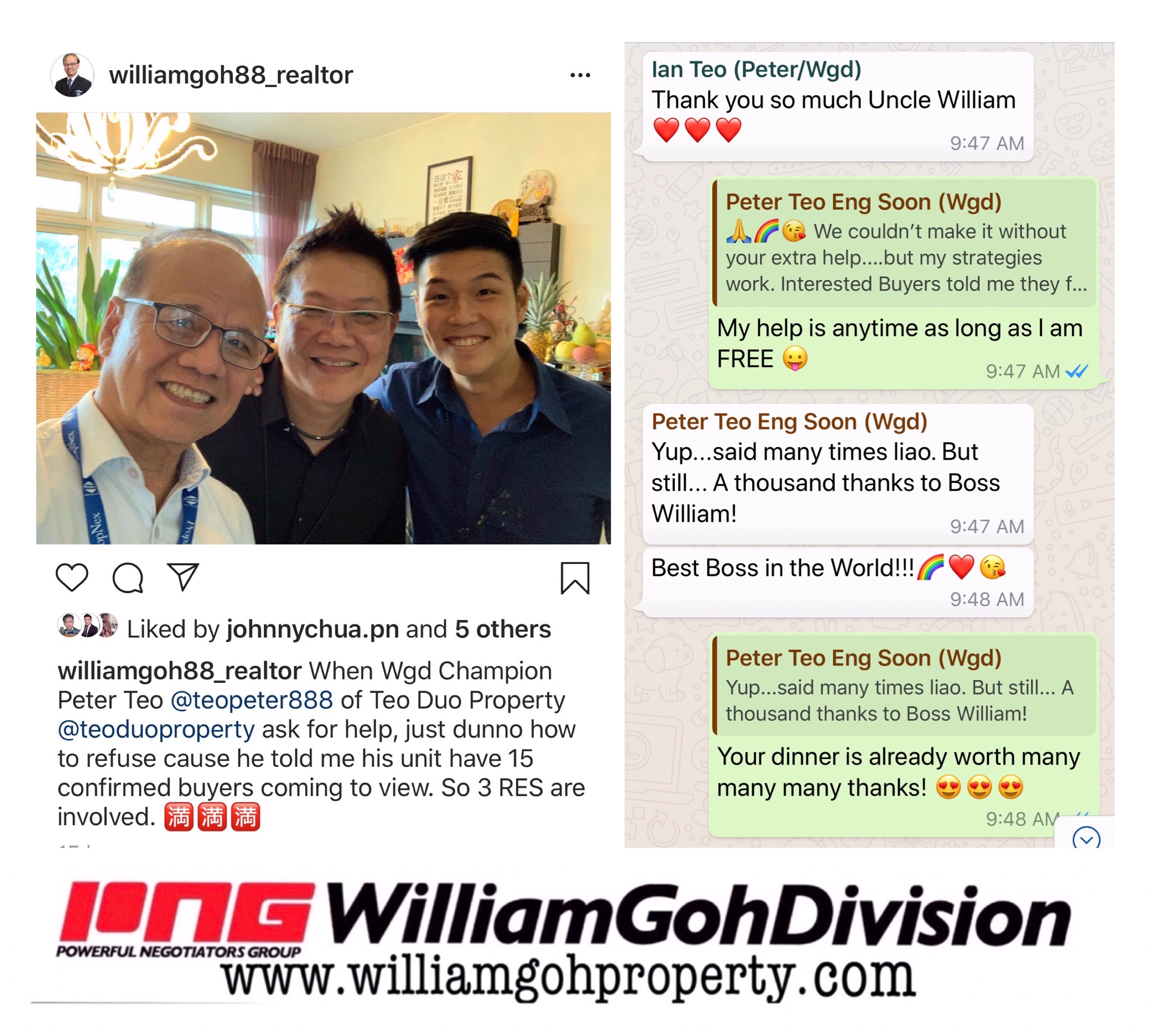 Mentor support
WGD warrior, Peter Teo of TeoDuo Property have confirmed 15 buyers coming to view his condo unit for sale and request for my assistance to manage the large viewers. As their mentor, I immediately say yes and the condo was sold within 1 week, from the buyer who came to view on the day I was assisting. Congrats Peter, more to come! 🈵🈵🈵
********************
Mentor support
Accompany my part-time RES, Adam Lee, who is still studying in SMU to close his first deal, serving HDB buyer. Congrats Adam, more to come! 🈵🈵🈵
********************
Mentor support
Felt so happy when your brand new RES, just passed RES and joined William Goh Division and achieved first closing (break egg).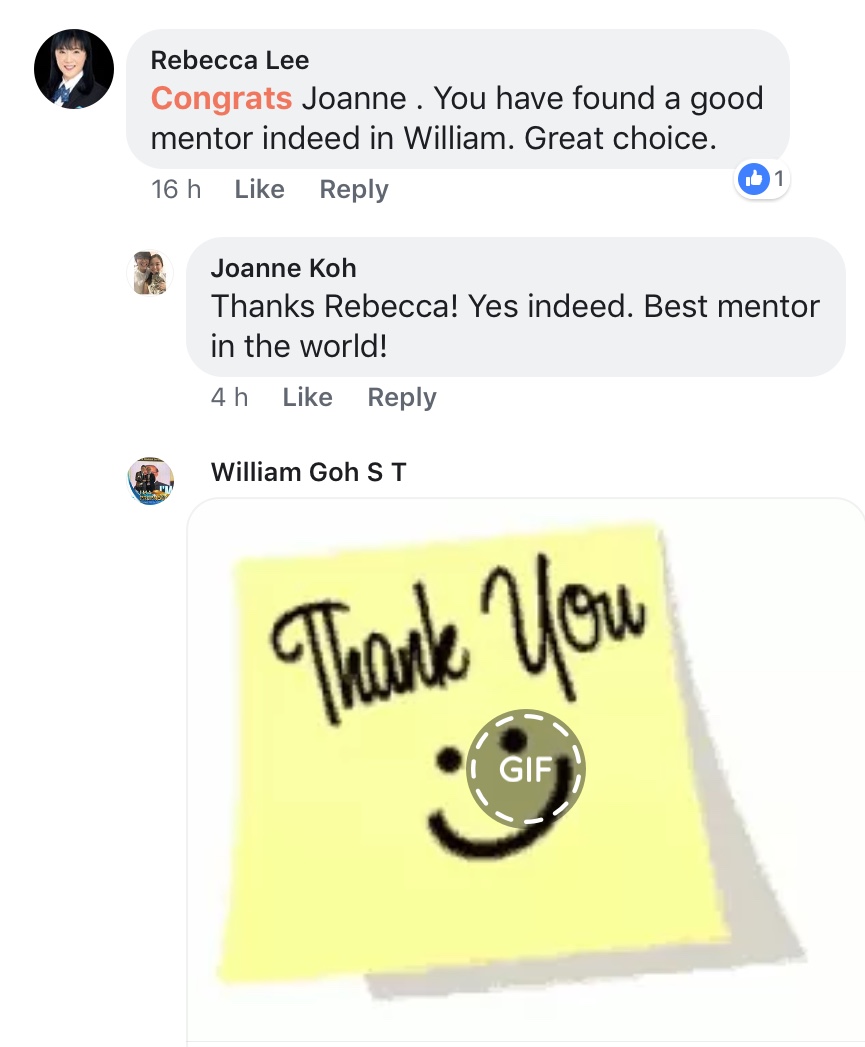 ********************
Congrats WGD Champion Peter Teo!
WGD Champion Peter Teo, achieved Top 10% in PropNex 3rdQ2018 Convention.  Congrats Peter! More to come!
********************
Thank you for being part of WGD 3+ years ago, starting as a brand new RES.
Thank you Francesca for such lovely message, also for your trust to be part of WGD, starting as a brand new RES.  I also noticed that you have grown heaps! Let's continue to grow and succeed together in the many years ahead!
********************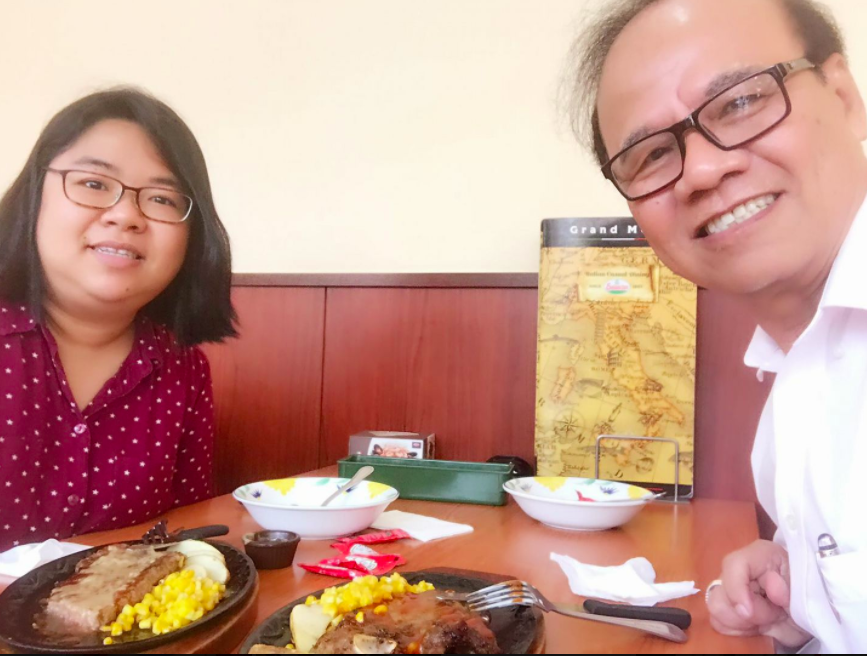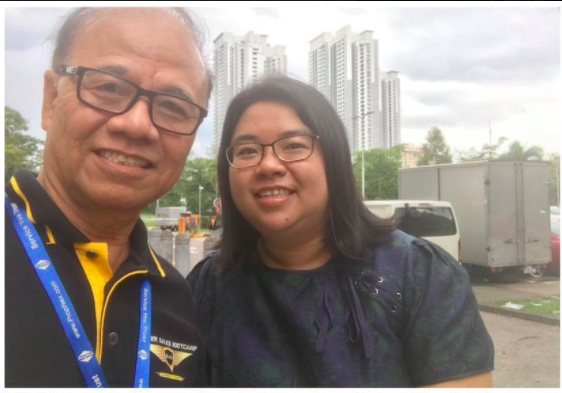 Thank you for being part of WGD 5+ years ago, starting as a brand new RES.
Met up with my mentor, William Goh S T, for lunch today. Lots of catch-up with this very passionate mentor/recruiter.
I had decided to join William, when I passed my RES 3+ years ago, while I was looking around for the right mentor. After meeting a few mentors from various reputable agencies, I decided to join him and have no regrets on my decision ever since!
I am very glad that I had made the right choice to join this industry, after working a few years in the government sector. Most importantly, being a brand new agent, I had found the right mentor and also the right team as my life have improved ever since, including a few holiday trips and buying my 1st investment property 2 years ago at age 27.
Joining the right mentor and the right team is very crucial regardless whether you are a brand new RES or experienced realtor.
I am currently also building my own team, hopefully to model after William, receiving recruitment tips from him too!
Looking forward to grow my own team in the many years ahead!
When I first met him, I could tell that he is different. I knew that he would be a good mentor as he truely cares for his associates and that's the very reason I decided to join him. Although he could have chosen to retire comfortably, he did not. He is the best role model, always full of energy! No questions will be left unanswered and he is always so prompt in his response, whenever we have any doubt, and at any time, even past midnight.
Vera Wang, CEA No:  R051578J
William Goh Division
********************
Mentor support
Personally, I believe he is one of the BEST Mentor you can find, who is 100% warm and sincere and willing to go the EXTRA MILE to help his associates by imparting his knowledge and experience willingly. Conducts 1-1 coaching, follow them to meet clients (OJT), etc, etc…really hard to find.
Peter Teo, CEA No:  R052533F
Wiliam Goh Division
********************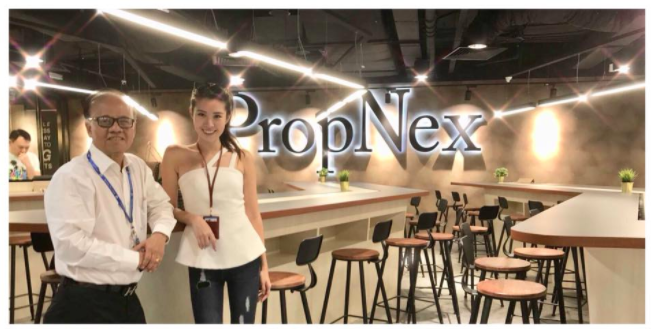 Mentor support
I am ever thankful to my mentor, William Goh, for his patience and guidiance to me in this real estate journey, joining him as a brand new agent.  He treats all his agents equally, responds really fast, and is very helpful in every single way. Thanks to his coaching and often replying to my sometimes silly questions at wee hours. I'm much more confident agent than before! If there's any mentor that provides all his time for his agents, William Goh will be that mentor.
Francesca Tan CEA No:  R057150H
William Goh Division
********************
I Love my job
Congratulation to William Goh S T! You are amazing, at your young age today, u can still lead your people to achieve tremendous result. It is all becos of your love for the people. Everyone in this team must learn from you, never stop learning and keep going. Well done for your amazing result!
Kelvin Fong
Executive Director, PropNex
Head, Powerful Negotiators Group
********************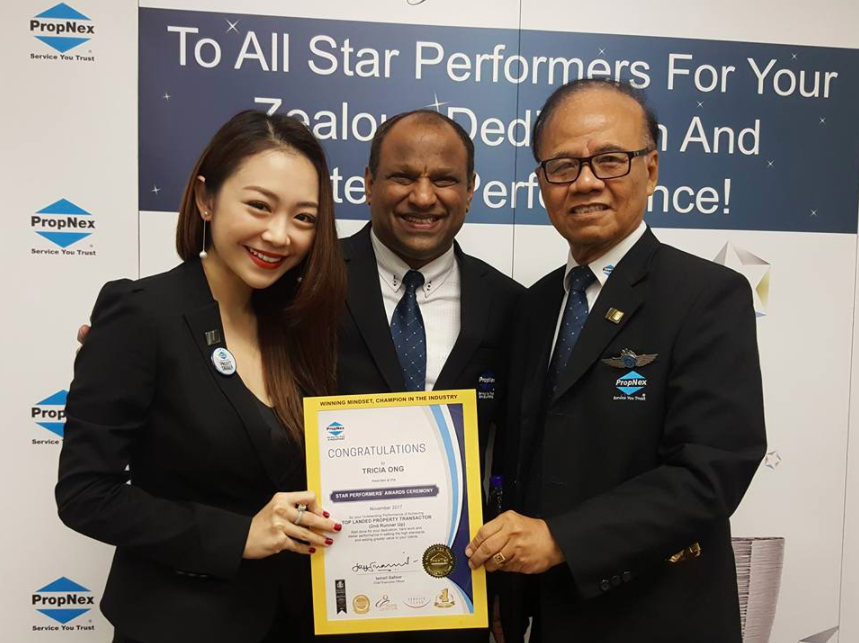 Mentor support
Thank you so much for helping me run all my viewings today while I was busy at Martin Modern showflat duty. You did'nt even hesitate when I asked you for help! How to find a mentor like this? Thank you William Goh,  my best mentor.
Tricia One CEA No:  R05240Z
William Goh Division
********************
Thank you for being part of WGD, after passing ur RES exams.
After passing my RES, and I went to meet a number of Mentors/Mangers from various reputable agencies, to hear what they had to say about the plus sides of joining them.
Out of all the Mentors/Managers, William was the last manager I met. As a stranger, I felt very comfortable speaking to him out of all the other Mentors/Managers I met, which is something I feel is very important in a relationship between Mentor/Manager and associate, especially for a brand new agent to enter into this industry.
Being a full-time student with limited time, I was initially worried that finding common timeslots to meet William would be challenging. However, my fears were unfounded as I realized after joining William, I found that he really manages his time very well and that meeting up with him even with my tight schedule was not an issue.
Within the first week when I got my CEA license, I met up with William thrice for 1-1 coaching sessions, each lasting 3+ hours. He coached me through the many things I needed to get started, such as the services available in PropNex Office, the various ways of sourcing listings, all the types of transaction forms for different purposes and many more….
Up till now, I feel comforted in the fact that whenever I have queries, I simply text William and he will get back to me with utmost speed. Even if the question is challenging, he will simply blast my question to his many connections, which he will get back to me, with an answer, with minimum delay.
I consider myself extremely lucky to have found William Goh as my Mentor/Manager, and Powerful Negotiators Group in my first foray into the Real Estate industry as a brand new agent.
Adam Lee CEA No:  R059350A
William Goh Division